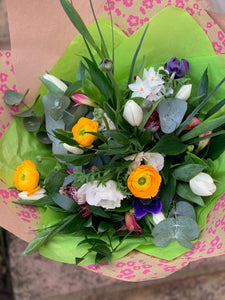 It's time to treat a Mum!
Any sort of Mum; they're all special... and after a year when you've probably not seen as much of yours as you would have liked, then a cheerful, pretty and colourful Springtime bouquet is what 'The Floral Nest' is offering for Sunday 14th March.
The Spring blooms most likely to make up the bouquet will be: anenomes, hyacinth, narcissi, iris and ranunculus and tulips which are are all in season  and Cotswold grown Alstomeria.  
It will made up of the colours of Spring.
Available for non contact delivery or collection if passing.  Free local non- contact delivery within 8 miles (Fairford and the surrounding villages) on Saturday 13th ( 2pm-5pm) if you can take them to your Mum yourself or Sunday 14th March delivery if you're unable to deliver them to your special Mama yourself.

Please order by 10am on Tuesday  9th March.
Whispers of Spring, tied up with string

.....and brown flowery paper. Plastic free. 
(Pictures shows a similar Spring bouquet. Some variations may be necessary.)  
 Also available: Gift cards and  Subscriptions. See website for details)