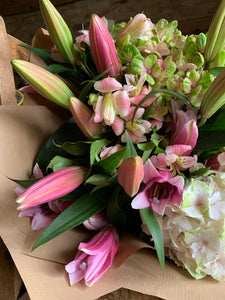 As is normal for this time of year,  we will be providing 100% British grown flowers. Gorgeous hydrangea will feature again as they were so impressive last week. These are  to be accompanied by stems of  pink Oriental Orchid with garden grown foliage interspersed and alstroemeria.
100% British grown blooms.  Standard bouquet includes 2 x stems of  oriental lily, 1 x hydrangea head ( white, pink or green), alstroemeria and garden foliage. 
Available for non contact delivery or collection if passing.  Free local non-delivery within 8 miles (Fairford and the surrounding villages).


Available from Thursday.
The essence of Summer , tied up with string
.....and brown paper. Plastic free. 
(Picture shows hydrangea only as example check instagram from wednesday for lily images.)