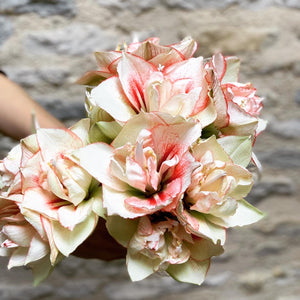 By the time we get to the end of the week, it will be December and I have Hipp St Passion ready for your homes. This is a red and white amaryllis, pretty, and a good introduction to the festive season if you've not thrown yourself completely into decorating the house yet. Also, I have by request St Irinia, which appeared early in November. Its the one in the picture. She has more fancy petals and isn't at all festive with light coloured petals a pale coral detailing. Both I think are super and like previous weeks these subtly showy, bold flowers come simply as 3 stems, with each stem producing  4 large flowers. It's a beautiful journey for the eyes! They will be accompanied eucalyptus.
(I will also be at Fairford market with some shorter, smaller amaryllis for sale in red or white.)
Available for non contact delivery or collection if passing.  Free local delivery within 8 miles (Fairford, Cirencester the surrounding villages) on Friday only.

Available from Friday

Whispers  of Winter , tied up with string
.....and brown paper. Plastic free.