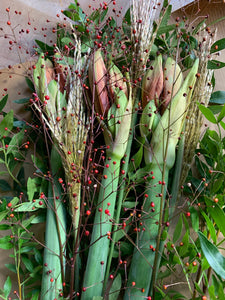 Hippeastrum (Amaryllis)  have gone down a storm and have been a really popular revelation to many. It's taken me far too long to choose this week's type and colour: there are so many to chose from at the market. I have resisted the festive colours just yet (as we're still in November) and chosen St Pink Rival and St Dance Valley which is  more unusual with more pointed petals. Both I think are super and like previous weeks these subtly  showy, bold flowers  come simply as 3 stems, with each stem producing  4 large flowers. It's a beautiful journey for the eyes! They will be accompanied by wax flower (another good lasting flower/foliage) and eucalyptus baby blue.
These flowers will see you our of lockdown, slowly opening and then blooming gracefully. They are well known for their superior longevity.
Available for non contact delivery or collection if passing.  Free local non-delivery within 8 miles (Fairford and the surrounding villages) on Friday only.


Available from Friday
Whispers  of Autumn, tied up with string
.....and brown paper. Plastic free.