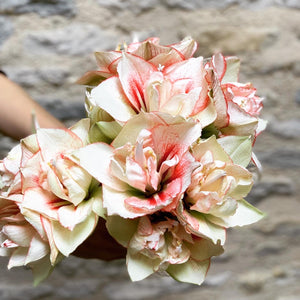 Hippeastrum (Amaryllis) are beginning to increasingly feature at the flower markets this time of year and I just couldn't resist getting them again this week. Those pictured are named St Irinia but there may be a change of name this week. These subtly  showy, bold flowers  come simply as 3 stems, with each stem producing  4 large flowers. It's a beautiful journey for the eyes! They will be accompanied by grasses and ruscus.
Now that we're experiencing our second lockdown, these flowers will brighten up your home, slowly opening and then blooming with magnificent pale flowers  delicately edged in red/ coral. They are well known for their superior longevity.
Available for non contact delivery or collection if passing.  Free local non-delivery within 8 miles (Fairford and the surrounding villages) on Friday only.


Available from Friday
Whispers  of Autumn, tied up with string
.....and brown paper. Plastic free.