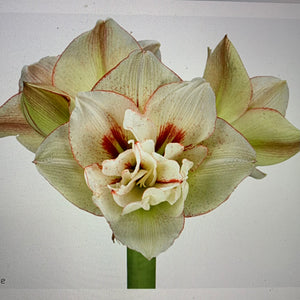 Hippeastrum (Amaryllis) are beginning to increasingly feature at the flower markets this time of year and I just couldn't resist getting these named St Irinia.  As they really need no accompaniment  I am selling these showy, bold Flowers simply as 3 stems.
Now that we're experiencing our second lockdown, these flowers will brighten up your home, slowly opening and then blooming with magnificent pale flowers  delicately edged in red/ coral. They are well known for their superior longevity.
Available for non contact delivery or collection if passing.  Free local non-delivery within 8 miles (Fairford and the surrounding villages) on Friday only.


Available from Friday
Whispers  of Autumn, tied up with string
.....and brown paper. Plastic free.