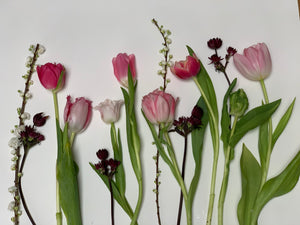 Another huge thank you to all who bought 'Flowers for the Weekend' last weekend. I'm really seeing how much flowers mean to you this lockdown. Hang on in there during these tricky times- things will improve!
Best to order before Wednesday mid-day to be guaranteed flowers as that's when my flower order is submitted and when I calculate how many bouquets I will create.

Flowers really cheer you and your home up and again I will select spring flowers which ooze freshness and optimism. I think tulips will feature again, there are just so many colours and shapes to chose from. I will study the flower list over the next few days to work out what is looking especially good. British flowers are struggling because of the dreadful weather and so our trusty Dutch growers are supplying us at the moment. I'll update here once I have decided.
Available for non contact delivery or collection if passing.  Free local non- contact delivery within 8 miles (Fairford and the surrounding villages) on Friday only.

Available from Friday
Whispers of Spring, tied up with string
.....and brown paper. Plastic free. 
(Pictures shows flower ingredients from a couple of weeks back. Check instagram for updated pictures.)