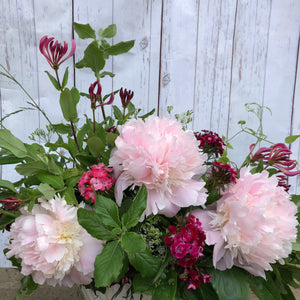 Despite being out of Lockdown, your 'Flowers for the Weekend' will continue to be delivered to your doorsteps every Friday.
So, if you'd like some simple but beautiful Spring flowers to pop into a jug or vase in the middle of your kitchen table or on your windowsill this Bank Holiday weekend, then simply order here. After something more dramatic or as a gift, then opt for the £30 bouquet and let me know if it's for a birthday as I'll wrap it accordingly. 

I'm ending the month of May with Peonies! Hooray! I'm seeing so many in the market now that I can't hold off any longer! Unfortunately they will not be British sourced this week as weather is delaying cropping and we've had to push it on 2 week in a row so no British peonies this week but I've got them ordered for next week. Finger's crossed.

I look forward to seeing you (socially distanced of course) on Friday. Stay safe.
Available for non contact delivery or collection if passing.  Free local non- contact delivery within 8 miles (Fairford and the surrounding villages) on Friday only.

Available on Friday
Whispers of Spring, tied up with string
.....and brown paper. Plastic free. 
(Actual peonies selected may vary from those in the picture. )