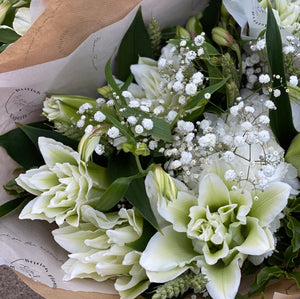 Fresh and pretty blooms and 100% British. British Summer lilies from Lincolnshire POLLEN-FREE rose lilles in white. Layers of petals and no over-powering smell or pollen stains. Each stems supports 3-6 flowers. They're pretty impressive!

Available for non contact delivery or collection if passing.  Free local delivery within 5 miles (Fairford and the surrounding villages only)  on Thursday 24th or  Friday 25th

Whispers of  Summer, tied up with string

.....and brown paper. Plastic free. 
(Picture shows example blooms only, no gypsophila this week!)