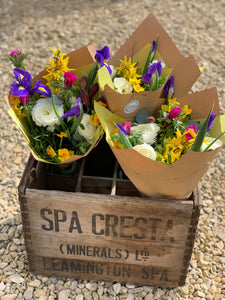 Fresh and pretty blooms for July! I will update the website closer to the time when I've got an idea of what is looking good and what will get you the most for your money!

Available for non contact delivery or collection if passing.  Free local delivery within 5 miles (Fairford and the surrounding villages only)  on  the evening of Thursday 7th or  Friday 8th

Whispers of  Summer, tied up with string

.....and brown paper. Plastic free. 
(Picture shows example blooms only!)