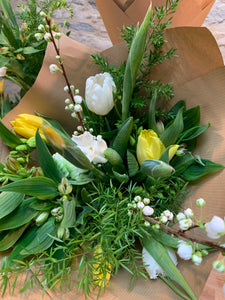 'Flowers for the Weekend' last week sold out really quickly again so another massive thank you to all my lovely customers. I'm opening the order book in good time this week. Be sure to order by Wednesday mid-day to be guaranteed flowers. That's when I place my order at the flower market and calculate out how many bouquets I will create.

Flowers really cheer you and your home up  and again I will select spring flowers which ooze freshness and optimism. I think tulips will feature again and I will study the flower list over the next few days to work out what is looking especially good. I'll update here once I have decided.
Available for non contact delivery or collection if passing.  Free local non- contact delivery within 8 miles (Fairford and the surrounding villages) on Friday only.

Available from Friday
Whispers of Spring, tied up with string
.....and brown paper. Plastic free. 
(Pictures shows a similar styled bouquet from last year and not an exact version. Check instagram for updated pictures.)