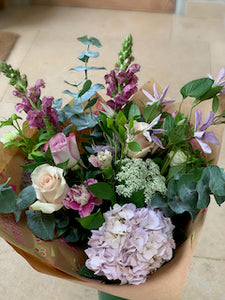 As well as the eco tulip option, we are also offering a bouquet of vintage themed flowers this week. Using a soft tonal palette it is  a sophisticated, delicate and airy bouquet consisting of soft  tones, with hints of lilac and pink. To include  memory lane roses,  parrot tulips, snapdragons and pretty clematis will complete the Vintage vibe with their beautiful, free form.  All nestled together with delicate foliage.
Only available in the larger size. 
(There may be some variation in shades and flower types to those shown in the pictures and description.)
Flowers for the Weekend' sold out again last week so a massive thank you to all my lovely customers.  Be sure to order by Wednesday mid-day to be guaranteed flowers for this weekend.
Available for non contact delivery or collection if passing.  Free local delivery within 5 miles (Fairford and the surrounding villages) on Friday only.

Available from Friday
Wintery/Spring, tied up with string
.....and brown paper. Plastic free. 
Picture shows last week's bouquet. This week's  bouquet will be different from this .