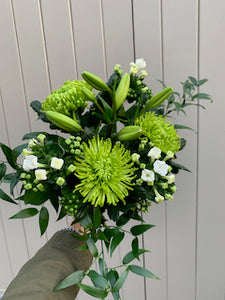 As always, it's the florist choice of flowers per week. I choose what is available and what is looking good and good value. As we are moving deeper into the  Autumn/Winter season, this week's flowers will echo the  potential coldness of the season with cool whites and green's making up a sophisticated Autumn/Winter look.

Free local delivery within 5 miles (Fairford and the surrounding villages) on Friday only.
 Available from Friday
Whispers of Autumn/Winter, tied up with string
.....and brown paper. Plastic free. 
(Picture shows example of green/white bouquet from last year. This week's bouquet may have different flower choices based on availability.)