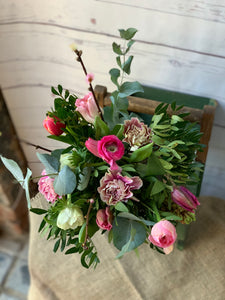 Flowery happiness continued last week with a little vintaged vibe with the flower style and colour. As always sincere thank you 'Flowers for the Weekend' customers. Flowers are really helping us  to find for the signs of Spring, despite the rainy weather. This is Week 8 of lockdown! Yikes- can we begin to see  the beginning of the end?  I'll look forward  to seeing you (socially distanced of course) on Friday.
Best to order before Wednesday morning to be guaranteed flowers as that is when  we commit our order. Trialling out some amazing poppies over the weekend, so I may choose those for a very modern, clean alternative . Watch this space.
I'm looking at trying to include more British stock, but the  cold weather isn't that favourable at the moment.
Available for non contact delivery or collection if passing.  Free local non- contact delivery within 8 miles (Fairford and the surrounding villages) on Friday only.
Available from Friday
Whispers of Spring, tied up with string
.....and brown paper. Plastic free. 
(Pictures shows last week's bouquet..)