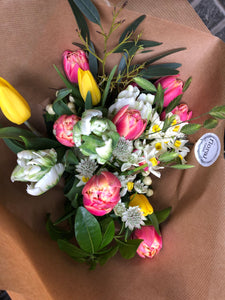 So, the Christmas decorations are down and the house seems bare. A new lockdown is announced and it all seems rather bleak.
Cheer up yourself and your home with a fresh and zingy burst of white, yellow and green blooms. We'll be using spring flowers which ooze freshness and optimism including astrantia billion stars for prettiness, white freesias for their purity and longevity, iris for a pop of colour and the all time spring favourite: tulip,  in mixed varieties and in shades of yellow and white.
All topped off with delicate and whispy Asparagus Deus Cwebe.
Available for non contact delivery or collection if passing.  Free local non-delivery within 8 miles (Fairford and the surrounding villages) on Friday only.

Available from Friday
Whispers of Spring, tied up with string
.....and brown paper. Plastic free. 
(Pictures shows a similar styled bouquet from last year and not an exact version. Check instagram for updated pictures.)