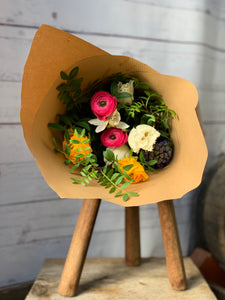 Once again it's been great spreading a little flowery happiness in our corner of the Cotswolds.  Sincere thank you 'Flowers for the Weekend' customers. Flowers are really helping to kick those lockdown blues away. 
Best to order before Wednesday morning to be guaranteed flowers as that's when  we commit our order. This week's flowers will again ooze freshness, optimism and fragrance in the form of hyacinths, narcissi,  ranunculus and tulips. British flowers are struggling because of the dreadful weather and so our trusty Dutch growers are supplying us at the moment.
Available for non contact delivery or collection if passing.  Free local non- contact delivery within 8 miles (Fairford and the surrounding villages) on Friday only.

Available from Friday
Whispers of Spring, tied up with string
.....and brown paper. Plastic free. 
(Pictures shows flower ingredients from last week. Check instagram for updated pictures.)