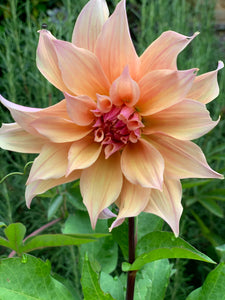 Dahlias are in their prime this time of year,  so I can't wait to see what amazing blooms Tess from Iris and Wilf in Fairford provides. I know I won't be disapponted.
I'm moving into soft autumn shades this week, and hoping for roses, astilbe and maybe wax flower from my visit to Bristol at the end of the week.
Using locally grown British dahlias.
Available for non contact delivery or collection if passing.  Free local non-delivery within 8 miles (Fairford and the surrounding villages).


Available from Friday
A whisper of Autumn, tied up with string
.....and brown paper. Plastic free. 
(Picture shows a dahlias, similar will be used)