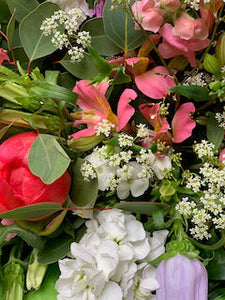 Fresh and pretty blooms in mixture of shades and a mixture of British and imported flowers. Check instagram for updates of flower selection but peony season is here and so I'll be checking British peony status for this week. 
Available for non contact delivery or collection if passing.  Free local delivery within 5 miles (Fairford and the surrounding villages only)  on Friday 13th May. 

Whispers of Spring/ Summer, tied up with string
.....and brown paper. Plastic free. 
(Picture shows example blooms only!)