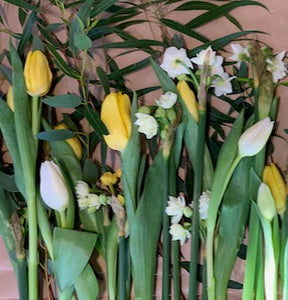 Fresh, pretty Spring blooms this week in a mixture of shades and also a mixture of British and imported origins. We will be using predominantly British flowers: Lincolnshire tulips from Smith and Munson and Gloucestershire alstromeria from Vince just down the road. Any other Spring blooms used will be imported as is the foliage.
A similar bouquet formed part of the Mother's Day collection and they looked so pretty I thought I'd repeat it for 'Flowers for the Weekend'.
Available for non contact delivery or collection if passing.  Free local delivery within 5 miles (Fairford and the surrounding villages only) on Friday.

Limited numbers available so please  order sooner rather than later!
Available from Friday
Whispers of Spring, tied up with string
.....and brown paper. Plastic free. 
Picture shows example bouquet only!