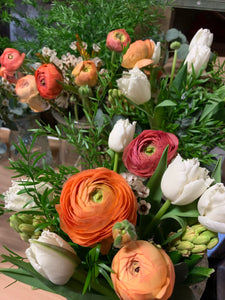 Good Friday 'Flowers for the Weekend' and the start of the month of April. A month when local flower growers are whispering they will have some flowers to sell further into the month. Let's see and cross our fingers!
If you'd like some simple Spring flowers to pop into a jug or vase in the middle of your kitchen table or on your windowsill this Easter, then simply order. It's eEaster, so I'll keep it suitably spring like!
I look forward to seeing you (socially distanced of course) on Friday. Stay safe.

Best to order before Tuesday morning  this week to be guaranteed flowers as it's a shorter week because of the long weekend.
Available for non contact delivery or collection if passing.  Free local non- contact delivery within 8 miles (Fairford and the surrounding villages) on Friday only.
Available onFriday
Whispers of Spring, tied up with string
.....and brown paper. Plastic free. 
(Pictures shows previous week's bouquet..)